Send to Kindle
We are with you, sire! For Sparta, for freedom, to the death! – Stelios (From the
movie 300
)
The essence of this "rise up" theme is embedded in many narratives; a theme that bears an unshakable source of inspiration for those of us who dare to face evil with unwavering courage!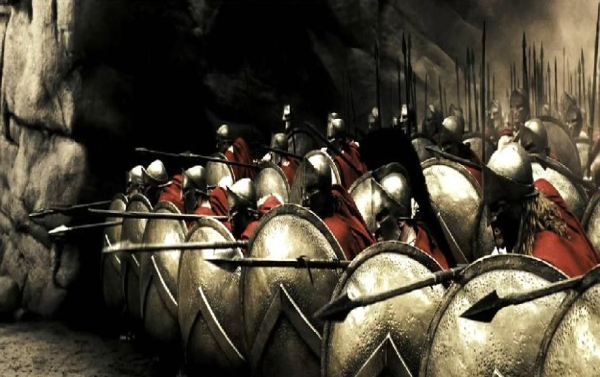 I love the scene from J. R. R Tolkien's "The Return of the King" where Aragon is desperately outnumbered. He looks fear right in the eye and finds the strength to inspire his men against what seems like an almost certain defeat against the massive forces of the enemy. Standing firm and riding in front of his army, Aragon addresses these words to his men:
"I see in your eyes the same fear that would take the heart of me. A day may come when the courage of men fails, when we forsake our friends and break all bonds of fellowship, …but it is not this day! This day we fight! By all that you hold dear on this good earth, I bid you stand…"i
King Leonidas stands before his assembled 300 Spartans before their march to Thermopylae to defend against the forces of Persia. In this crowd along with the 300 are the rest of the Spartan forces (wishing with everything inside them that they could go and fight along side the 300), the wives, families and the whole or Sparta are gathered to see these heroes off, knowing they will never return. King Leonidas addresses these words to his men:
"Death stands close upon us now," the king spoke. "Can you feel him, brothers? I do. I am human and I fear him. My eyes cast about for a sight to fortify the heart for that moment when I come to look him in the face."
Leonidas began softly, his voice carrying in the dawn stillness, heard with ease by all.
"Shall I tell you where I find this strength, friends? In the eyes of our sons in scarlet before us, yes. And in the countenances of their comrades who will follow in battles to come. But more than that, my heart finds courage from these, our women, who watch in tearless silence as we go."
He gestured to the assembled dames and ladies, singling out two matriarchs, Pyrrho and Alkmene, and citing them by name. "How many times have these twain stood here in the chill shade of Parnon and watched those they love march out to war? Pyrrho, you have seen grandfathers and father troop away down the Aphetaid, never to return. Alkmene, your eyes have held themselves unweeping as husband and brothers have departed to their deaths. Now here you stand again, with no few others who have borne as much and more, watching sons and grandsons march off to hell."
This was true. The matriarch Pyrrho's son Doreion stood garlanded now among the Knights; Alkmene's grandsons were the champions Alpheus and Maron.
"Men's pain is lightly borne and swiftly over. Our wounds are of the flesh, which is nothing; women's is of the heart— sorrow unending, far more bitter to bear."
Leonidas gestured to the wives and mothers assembled along the still-shadowed slopes.
"Learn from them, brothers, from their pain in childbirth which the gods have ordained immutable. Bear witness to that lesson they teach: nothing good in life comes but at a price. Sweetest of all is liberty. This we have chosen and this we pay for. We have embraced the laws of Lykurgus, and they are stern laws. They have schooled us to scorn the life of leisure, which this rich land of ours would bestow upon us if we wished, and instead to enroll ourselves in the academy of discipline and sacrifice. Guided by these laws, our fathers for twenty generations have breathed the blessed air of freedom and have paid the bill in full when it was presented. We, their sons, can do no less."
…"In years six hundred, so the poets say, no Spartan woman has beheld the smoke of the enemy's fires…I swear that our wives and daughters, our sisters and mothers, will not behold those fires now."ii
And the best battle cry of all! The King of Kings and the Lord of Lords addresses these words to his men:
Finally, be strong in the Lord and in his mighty power. Put on the full armor of God, so that you can take your stand against the devil's schemes. For our struggle is not against flesh and blood, but against the rulers, against the authorities, against the powers of this dark world and against the spiritual forces of evil in the heavenly realms. Therefore put on the full armor of God, so that when the day of evil comes, you may be able to stand your ground, and after you have done everything, to stand. Stand firm then, with the belt of truth buckled around your waist, with the breastplate of righteousness in place, and with your feet fitted with the readiness that comes from the gospel of peace. In addition to all this, take up the shield of faith, with which you can extinguish all the flaming arrows of the evil one. Take the helmet of salvation and the sword of the Spirit, which is the word of God. And pray in the Spirit on all occasions with all kinds of prayers and requests. With this in mind, be alert and always keep on praying for all the Lord's people. Pray also for me, that whenever I speak, words may be given me so that I will fearlessly make known the mystery of the gospel, for which I am an ambassador in chains. Pray that I may declare it fearlessly, as I should. -Ephesians 6:10-20 (NIV)
This question is for all you men of God out there! "Have you ever had or will you ever have a fraction of the steel within you to stand among such men? Men of God are you willing to sacrifice everything for what you believe in? For what God is calling you to do? Men are you willing to endure God's training camp, to take life's best shot to the face, to deny yourself – to pick up your cross and follow Him as a courageous soldier of Christ?"
Remember this about your Commander and Chief, Jesus Christ…"The Son is the image of the invisible God, the firstborn over all creation. For in him all things were created: things in heaven and on earth, visible and invisible, whether thrones or powers or rulers or authorities; all things have been created through him and for him. He is before all things, and in him all things hold together. And he is the head of the body, the church; he is the beginning and the firstborn from among the dead, so that in everything he might have the supremacy." -Colossians 1:15-18 (NIV)
It takes courage to live from your heart! Our families, our spouses, our kids, our community and our nation needs us to rise up in the name of Jesus!
"My shield is not for me, it is for my brother to my left, as my brother to my right hand's shield is for me. I will never let my brother out of the shelter of my shield, it will protect him for as long as I have a breath. I will always bear my shield forward toward the enemy. I will return from battle with my shield, or on it!" -unknown
________________________
i "The Black Gate Opens," The Return of the King, directed by Peter Jackson (New Line Home Entertainment, A Time Warner Company, 2004), DVD.
ii Pressfield, Steven (2007-01-30). Gates of Fire (p. 294, 295). Random House, Inc.. Kindle Edition.
Did you enjoy this post? If so, I'd love to hear your thoughts in the
comments
below. It would be great if you subscribed to the Heartstone
RSS feed
or signed up for
email updates
so you don't miss anything. There's lots more where this came from!
You can now download and sample 45% of Heartstone from
Smashwords.com
before you decide to buy!