My thoughts and prayers go out to all those affected by the devastating tornadoes in Oklahoma. Praying for all the kids and all the families there.
Check out my post on G+
Trying To Understand This Tragedy
.
Jump right into the blog or continue reading…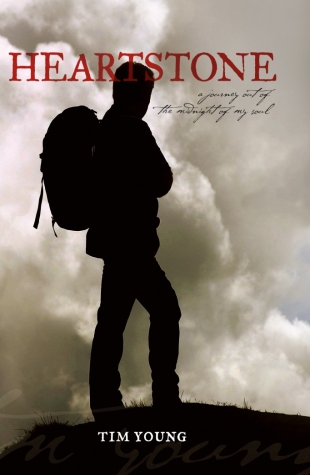 Hey, Dad, God has been inviting me to make another climb up Mt. Lafayette. His invitation is an all-consuming nudge that I can't escape, and I was wondering if you would put aside your plans for Saturday and take the journey with me." Knowing that this was my Mount Horeb, my dad put his plans aside, curiously excited to go on adventure and take this hike with his son.
We woke up early that morning of July 4, 2008; gathered our hiking gear; jumped in the car; and headed north to the White Mountains of New Hampshire. Before driving too far, we decided that it would be a great idea to make a quick detour to get a caffeine boost at the nearest Dunkin' Donuts. My eyes were still adjusting from the transition of darkness to light as the sun began to peek over the horizon when I lowered my coffee cup to share with my dad a thought that had popped into my head. "You know, Dad, it's been four years since I made this climb, when God asked me to pick up four stones and bring them down the mountain with me. Remember how these four stones have become a binding theme in my life and guideposts along my journey with God?" My dad continued the conversation by replaying the events of these past four years and admitted his excitement and curiosity when I asked him to join me on this hike. We were both very eager to see what adventures God had in store for us on this climb.
An adventure is, by its nature, a thing that comes to us. It is a thing that chooses us, not a thing that we choose.
On our drive to the mountain, the jet stream of life slowly faded into the background as I became immersed in the much-needed conversation with my dad. The pull focus was retelling the story of the four stones and all the adventures I experienced during these four years after my divorce. The depth of this conversation was something that I craved growing up so I soaked up every word, every emotion I could, during our time together.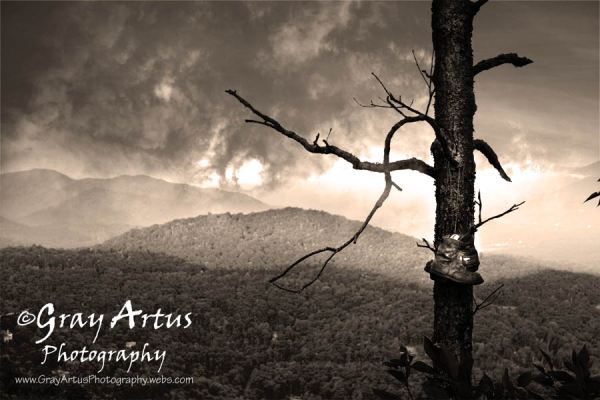 © Gray Artus, All Rights Reserved. Used with permission from artist.
Approaching Franconia Notch from the south is like entering a different world. It doesn't take long to see the prominent protrusion of the Whitney-Gilman ridge with the Black Dike in its shadow as Cannon Mountain approaches. Passing exit 34A (the Flume), we headed for the "Trailhead Parking" sign which came into clear view after passing the Basin, a granite pothole twenty feet in diameter smoothed out by small stones and sand whirled around by the Pemigewasset River. As we pulled into the parking lot, we were welcomed by a crystal-clear sky and steady, but soft morning breeze. We geared up and decided to retrace the steps of my last journey as we began our ascent to the summit via the Bridle Path trail.
Up the mountain we went.
After hiking a while, we were relieved to see the Greenleaf Appalachian Mountain Club (AMC) hut coming into view, as we were ready for some lunch before our final ascent. In July, the hut opens each day to serve weary, hungry hikers freshly baked bread, homemade lemonade, and a warm, delicious tomato soup. It was really nice to shed our backpacks and boots as we rejuvenated our tired bodies with a hot lunch and more great conversation.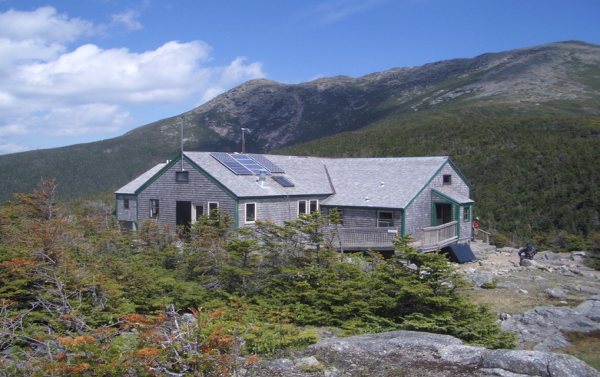 "Hey, Dad, wouldn't it be awesome to find the same large rock that I stood on during my last journey? You know…the place where God and I had a conversation about the four stones?" My dad simply answered by encouraging me to ask God to lead us to it. As we continued our hike toward the summit I did just that and asked God to lead us to the exact spot. There was no way we could find the exact location on our own because the terrain started looking the same.
As we neared the summit, a noticeable wind came out of nowhere ushering our steps in a direction that took us off the marked path we were on. We wandered in what seemed to be the wrong direction, and it wasn't long before the familiar marker of the large rock came into focus. I found myself again standing upon this awe-inspiring centerpiece in the vast exposed area of the mountain. Standing there on the rock, I took a deep breath, lifted my head to the Heavens and began to have another conversation with God.
The wind blows wherever it pleases. You hear its sound, but you cannot tell where it comes from or where it is going. So it is with everyone born of the Spirit. —John 3:8 (NIV)
Stepping down from the rock, my dad ran over to me. Before he could ask me what happened, I said, "God told me that He has placed a heart-shaped stone within the ruins of the hotel foundation on the summit." My dad looked at me somewhat bewildered, but remembering my last conversation with God here, he decided to just come along for the ride.
Our already sore feet carried us quickly to the summit, matching step for step with the anxious beating of my heart. Greeted by the ruins of an old hotel foundation I began my prayer walk within the crumbling walls to discover a heart shaped stone. It took some time, but I faithfully pursued it, placing my complete trust in the words He spoke to me. Like a little child on Christmas morning, I ran over to my dad with an overflowing joy to show him. "Dad, check this out, I found it. I found the heartstone!"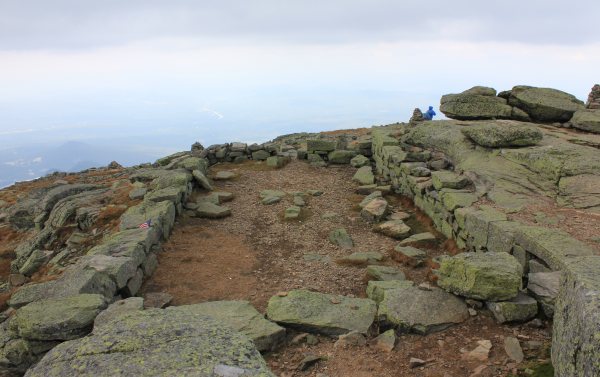 The Spirit of God moves with a mystery we cannot understand. He influences whatever He wants, where, when, on whom, and in what measure and degree, He pleases. His soft winds led me to the base of Mt. Lafayette, my own Mount Horeb, to once again make the ascent to the mountaintop to encounter the living God. His soft winds guided my steps again to the large rock hidden on the mountain. His soft winds led me to the heartstone that God had placed within the walls of the hotel ruin.
Four years ago, He led me to discover four stones. Today, He has led me to find one:—His heartstone.
Restoration.
Somehow we come to a place on our journey where we find ourselves completely lost, without direction, in valleys of life where we finally come to the end of ourselves and we want to come home. The "somehow" became a reality in my life when the crisis of divorce beat me down to the place where I desperately wanted to come home, and my heart was willing. He has been pursuing me with the soft winds of His Spirit through all the hurts, pain, sorrows, and disappointments. Through these journeys, He has healed my heart, and it has been restored.
The Holy Spirit is determined that we will have the realization of Jesus Christ in every area of our lives, and He will bring us back to the same point over and over again until we do.—Oswald Chambers
I remember holding the four fragmented pieces of stone in my hands on this mountaintop four years ago, not fully understanding the significance that these symbols would represent in my life. Today I stand here on this very same mountaintop holding a heartstone in my hand…a heartstone that is not broken, a heartstone that has been beautifully restored, a heartstone to remind me that it is in His nearness that there is healing and that everything broken is made whole and restored in its fullness.
What story is your life telling?
Mine? I invite you to walk with me through these pages as I share my story, my journey. Take no more with you than the question, "Can God take the clutter of my life, with everything seemingly stacked against it and redeem it?"
I offer you only my story; walk with me…
Excerpt from Heartstone Copyright © 2009 by Tim Young. All rights reserved.
If you have experienced the contact sport called "life" in any way then join the conversation because this blog is for you. Life is not a snapshot, so why do we live it that way? Live courageously from your heart!
Remember, it's about the journey and the journey is the destination!